Ann Gillbanks
Tournament Organiser
Simon Slade
Postals Organiser
(non-committee)
Scott Williams
Records Officer
Andrew Hoyle
Senior County Team Manager
Andy Parkinson
County Coaching Organiser
Julia Hadley
Judges Representative
Karen Williams
John Poyner
Reps to GWAS Council
Sophie Twigg
Junior Representative
Declan Ross-Thomas
PRO / Newsletter Editor
Emma Martyn
Safeguarding Officer
Tim Pratt
DCAS Equipment Officer
Loco Bowmen

University of Plymouth

Dunheved Archers

Endeavour Archers
Our full club list
Archers of the West
Barnstaple Archery Club
Bowmen of the Tors
Bowmen of Wadebridge
Brixham Archers
Dunheved Archers
Endeavour Archers
Exeter Co. of Archers
Exmoor Archers
Exmouth Archers
Junction Archers
Kenwith Co. of Archers
Kingsbridge Archers
Kyrton Archers
Lacetown Archers
Lizard Peninsula Bowmen
Loco Bowmen
Mounts Bay Archery Club
Newquay Bowmen
Paignton Archers
Plymouth Archers
Redruth Archers
St Austell Bay Archers
Tamar Valley Archers
Tavistock Co of Archers
Torquay Co of Archers
Totnes Archers
University of Exeter Archery Society
University of Plymouth
Yelverton Bowmen
TOURNAMENT RESULTS ARCHIVE
Club Tournament Result Sheets
| Tournaments – 2020 | Results Sheet |
| --- | --- |
| Kyrton Archers Winter Warmer - Portsmouth - 12th January 2020 | |
| Brixham Clipper – Portsmouth – 27th January 2020 | |
| Archers of the West – Valentine Worcestor and Vegas – 16th February 2020 | |
| Newquay Bowmen – Double Portsmouth – 9th February 2020 | |
| Redruth Archers – Double Stafford – 8th March 2020 | |
| Barnstaple Indoor – Vegas and WA 18m – 8th March 2020 | |
| University of Plymouth - 7th Open Portsmouth - 22nd March 2020 | |
| Lizard Open Entry - 30th Aug 2020 | invitation |
Tournaments – 2019
Results Sheet
Brixham Clipper – Portsmouth and Head to Head – 27th January 2019

Ianseo
Archers of the West – Valentine Worcestor and Vega – 17th February 2019
...
Newquay Bowmen – Combined WA25m/18m – 17th February 2019
...
Redruth Archers – Double Stafford – 3rd March 2019

...
Barnstaple Indoor – Vegas and WA 18m – 10th March 2019

Bowmen Of The Tors - Agincourt Longbow Tournament - 28th April 2019
...
Exmouth Archers Open – RS York / Hereford / Bristols / Nationals – 19th May 2019
Ianseo

Redruth – Double WA 70m and 50m – 12th May 2019


Ianseo
Exeter Company Of Archers BLBS Shoot - Two Way Western - 25th May 2019

...
Brixham Archers - Open Rose - York/Hereford - 26th May 2019

Ianseo
Bowmen of the Tors Open - York / Hereford - 2nd June 2019
Ianseo
Barnstaple – Warwicks – 10th June 2019

Archers of the West Open Tournament – Mixed Herefords - 17th June 2019

...
Redruth – Double American – 23rd June 2019

Exmouth Archers - Double 1440 - 13th and 14th July 2019
Ianseo Sat
Ianseo Sun
Kenwith Company Of Archers Open - York / Hereford - 28th July 2019

Redruth – Double WA1440 – 3rd and 4th August 2019

Ianseo Sat
Ianseo Sun

Exmouth Archers WA Weekend – WA 70m and Head to Head / WA 1440 – 17th and 18th August 2019
Ianseo Sat
Ianseo Sun
Barnstaple – Double WA 70m and 50m – 25th August 2019

Ianseo
Lizard Peninsula Open – York/Hereford – 24th and 25th August 2019



Kyrton Archers Eagle Open - Worcester - 13th October 2019
Exmouth Indoor – WA18m – 27th October 2019

Ianseo

Newquay Bowmen – Double Worcester – 17th November 2019

Exeter University Archery Club- Worcester- 29th November 2019
...
Archers of the West – Handicap Portsmouth – 1st December 2019

...
Plymouth University Open - WA18m - 1st December 2019

Tournaments – 2018
Results Sheet
Brixham Clipper – Portsmouth and Head to Head – 28th January 2018
Archers of the West – Valentine Worcestor and Vega – 11th February 2018
Newquay Bowmen – Combined WA25m/18m – 18th February 2018
Redruth Archers – Stafford – 4th March 2018

Barnstaple Indoor – Vegas and WA 18m – 11th March 2018
Redruth – Longbow 2 way Western and Clout – 8th April 2018
Exmouth Archers Open – RS York / Hereford / Bristols / Nationals – 20th May 2018

Ianseo

Redruth – Double WA 70m and Cadet 60m – 13th May 2018

Ianseo
Barnstaple – Warwicks – 11th June 2018
Redruth – Canadian 1200 – 24th June 2018
Exmouth Archers FITA Weekend – FITA 70m and Head to Head / Ladies / Gents FITA – 18th and 19th August 2018
Ianseo Sat
Ianseo Sun

Barnstaple – Double WA 70m and 50m – 25th and 26th August 2018
Lizard Peninsula – York/Hereford – 25th and 26th August 2018
Exmouth Indoor – WA18m – 28th October 2018
Ianseo

Archers of the West – Handicap Portsmouth – 25th November 2018

Tournaments – 2017
Results Sheet
Brixham Clipper – Portsmouth and Head to Head – 29th January 2017
Redruth Archers – Stafford – 5th March 2017

Barnstaple Indoor – Vegas and WA 18m – 12h March 2017
Redruth – Longbow 2 way Western and Clout – 9th April 2017
Exmouth Archers Open – RS York / Hereford / Bristols / Nationals – 7th May 2017
Redruth – Double FITA 70m and Cadet 60m – 14th May 2017
Ianseo
Brixham Archers – York / Hereford / Bristols – 29th May 2017
Redruth – Double American – 25th June 2017
Wadebridge Open – Mixed Hereford / Bristols – 2nd July 2017
Newquay Bowmen – York / Hereford / Bristol / Nationals – 16th July 2017

Exmouth Archers FITA Weekend – FITA 70m and Head to Head / Ladies / Gents FITA – 19th and 20th August 2017
Ianseo Sat
Ianseo Sun

Kyrton Eagle – Worcestor – 8th October 2017
Exmouth Indoor – WA18m – 29th October 2017
Ianseo

Newquay Bowmen – Worcestor – 14th November 2017

Tournaments – 2016
Results Sheet
Kyrton – Portsmouth – 17th January 2016
Newquay Indoor – Double Portsmouth – 24th January 2016
Brixham Clipper – Portsmouth and Head to Head – 31st January 2016
Archers of the West – Worcestor and Vegas – 14th February 2016
Barnstaple Indoor – Vegas and WA 18m – 6th March 2016
Redruth – Longbow 2 way Western and Clout – 9th April 2016
Bowmen of the Tors – Longbow – 24th April 2016
Barnstaple AC – Warwicks – 24th April 2016
Redruth – Double FITA 70m and Cadet 60m – 8th May 2016
Bowmen of the Tors – York / Hereford / Bristols – 22nd May 2016
Brixham Archers – York / Hereford / Bristols – 29th May 2016
Newquay Bowmen – York / Hereford / Bristol / Nationals – 17th July 2016

Exmouth Archers FITA Weekend – FITA 70m and Head to Head / Ladies / Gents FITA – 20th and 21st August 2017

Ianseo Sat
Ianseo Sun

Lizard Peninsular – York / Hereford / Bristols – 27th and 28th August 2016
Barnstaple AC – 70m – 18th September 2016
Kyrton Eagle – Worcestor – 9th October 2016
Exmouth Indoor – WA18m – 30th October 2016
Ianseo

Newquay Bowmen – Worcestor – 14th November 2016

Brixham Archers – FITA 18 and Head to Head – 27th November 2016
| Tournaments – 2015 | Results Sheet |
| --- | --- |
| Kyrton – Portsmouth – 18th January 2015 | |
| Brixham Clipper – Portsmouth and Head to Head – 1st February 2015 | |
| Archers of the West – Worcestor and Vegas – 15th February 2015 | |
| St Austell – Combined FITA – 8th March 2015 | |
| Redruth – Longbow 2 way Western and Clout – 12h April 2015 | |
| Bowmen of the Tors – Longbow – 19th April 2015 | |
| Barnstaple AC – Warwicks – 26th April 2015 | |
| Redruth – Double FITA 70m and Cadet 60m – 10th May 2015 | |
| Bowmen of the Tors – York / Hereford / Bristols – 17th May 2015 | |
| Brixham Archers – York / Hereford / Bristols – 24th May 2015 | |
| Wadebridge Open – Mixed Hereford / Bristols – 5th July 2015 | |
| Exmouth Archers Open – RS York / Hereford / Bristols / Nationals – 12th July 2015 | |
| Newquay Bowmen – York / Hereford / Bristol / Nationals – 19th July 2015 | |
| Exmouth Archers FITA Weekend – FITA 70m and Head to Head / Ladies / Gents FITA – 15th and 16th August 2015 | |
| Brixham Archers – FITA 18 and Head to Head – 25th October 2015 | |
| Kenwith Archers – Portsmouth and FITA 18 – 1st November 2015 | |
| Newquay Bowmen – Worcestor – 15th November 2015 | |
| St Austell Double Portsmouth – 15th November 2015 | |
| Archers of the West – Handicap Portsmouth – 29th November 2015 | |
| Mounts Bay – Portsmouth – 6th December 2015 | |
| Tournaments – 2014 | Results Sheet |
| --- | --- |
| Newquay Indoor – Double Portsmouth – 26th January 2014 | |
| Brixham Clipper – Portsmouth and Head to Head – 2nd February 2014 | |
| Archers of the West – Worcestor and Vegas – 16th February 2014 | |
| St Austell – Combined FITA – 9th March 2014 | |
| Redruth – Longbow 2 way Western and Clout – 6th April 2014 | |
| Bowmen of the Tors – Longbow – 13nd April 2014 | |
| Barnstaple AC – Warwicks – 27th April 2014 | |
| Redruth – Double FITA 70m and Cadet 60m – 11th May 2014 | |
| Kyrton – Westerns – 11th May 2014 | |
| Bowmen of the Tors – York / Hereford / Bristols – 18th May 2014 | |
| Brixham Archers – York / Hereford / Bristols – 25th May 2014 | |
| Lizard Peninsular Open – St George / Albion – 8th June 2014 | |
| Redruth – Double American – 29th June 2014 | |
| Wadebridge Open – Mixed Hereford / Bristols – 6th July 2014 | |
| Exmouth Archers Open – RS York / Hereford / Bristols / Nationals – 13th July 2014 | |
| Newquay Bowmen – York / Hereford / Bristol / Nationals – 20th July 2014 | |
| Kenwith Archers – York / Hereford / Bristol / Nationals – 27th July 2014 | |
| Exmouth Archers FITA Weekend – FITA 70m and Head to Head / Ladies / Gents FITA – 16th and 17th August 2014 | |
| Kyrton Eagle – Worcestor – 5th October 2014 | |
| Brixham Archers – FITA 18 and Head to Head – 26th October 2014 | |
| Kenwith Archers – Portsmouth and FITA 18 – 2nd November 2014 | |
| Newquay Bowmen – Worcestor – 9th November 2014 | |
| Tournaments – 2013 | Results Sheet |
| --- | --- |
| Kyrton Winter Warmer – Portsmouth – 13th January 2013 | |
| Newquay Indoor – Double Portsmouth – 27th January 2013 | |
| Brixham Clipper – Portsmouth and Head to Head – 3rd February 2013 | |
| Archers of the West – Worcestor and Vegas – 10th February 2013 | |
| Barnstaple Indoor – Portsmouth and Vegas – 3rd March 2013 | |
| Redruth – Longbow 2 way Western and Clout – 14th April 2013 | |
| Bowmen of the Tors – Longbow – 21st April 2013 | |
| Barnstaple AC – Warwicks – 28th April 2013 | |
| Redruth – Double FITA 70m and Cadet 60m – 12th May 2013 | |
| Kyrton – Westerns – 12th May 2013 | |
| Bowmen of the Tors – York / Hereford / Bristols – 19th May 2013 | |
| Exeter Co of A – BLBS 2 Way Windsor – 25th May 2013 | |
| Wadebridge Open – Mixed Hereford / Bristols – 7th July 2013 | |
| Exmouth Archers Open – RS York / Hereford / Bristols / Nationals – 14th July 2013 | |
| Kenwith Archers – York / Hereford / Bristol / Nationals – 28th July 2013 | |
| Exmouth Archers FITA Weekend – FITA 70m and Head to Head / Ladies / Gents FITA – 17th and 18th August 2013 | |
| Kyrton Eagle – Worcestor – 6th October 2013 | |
| St Austell Double Stafford – 13th October 2013 | |
| Brixham Archers – FITA 18 and Head to Head – 27th October 2013 | |
| Kenwith Archers – Portsmouth and FITA 18 – 3rd November 2013 | |
| Newquay Bowmen – Worcestor – 9th November 2014 | |
| Archers of the West – Handicap Portsmouth – 8th December 2013 | |
| Tournaments – 2012 | Results Sheet |
| --- | --- |
| Kyrton Winter Warmer – Portsmouth – 15th January 2012 | |
| Newquay Indoor – Double Portsmouth – 29th January 2012 | |
| Brixham Clipper – Portsmouth and Head to Head – 5th February 2012 | |
| Archers of the West – Portsmouth – 12th February 2012 | |
| Redruth – Longbow 2 way Western and Clout – 15th April 2012 | |
| Bowmen of the Tors – Longbow – 22nd April 2012 | |
| Barnstaple AC – Warwicks – 29th April 2012 | |
| Redruth – Double FITA 70m and Cadet 60m – 13th May 2012 | |
| Kyrton – Westerns – 13th May 2012 | |
| Bowmen of the Tors – York / Hereford / Bristols – 20th May 2012 | |
| Brixham Archers – York / Hereford / Bristols – 27th May 2012 | |
| Exeter – Diamond Jubilee Open – 4th June 2012 | |
| Lizard Peninsular Open – St George / Albion – 17th June 2012 | |
| Redruth – Double American – 24th June 2012 | |
| Wadebridge Open – Mixed Hereford / Bristols – 1st July 2012 | |
| Exmouth Archers Open – RS York / Hereford / Bristols / Nationals – 8th July 2012 | |
| Exmouth Archers FITA Weekend – FITA 70m and Head to Head / Ladies / Gents FITA – 18th and 19th August 2012 | |
| Kyrton Eagle – Worcestor – 7th October 2012 | |
| Newquay Bowmen – Worcestor – 11th November 2012 | |
| Tournaments – 2011 | Results Sheet |
| --- | --- |
| Kyrton Winter Warmer – Portsmouth – 16th January 2011 | |
| Brixham Clipper – Portsmouth and Head to Head – 6th February 2011 | |
| Archers of the West – Portsmouth – 13th February 2011 | |
| St Austell – Combined FITA – 13th March 2011 | |
| Redruth – Longbow 2 way Western and Clout – 10th April 2011 | |
| Bowmen of the Tors – Longbow – 17th April 2011 | |
| Redruth – Double FITA 70m and Cadet 60m – 8th May 2011 | |
| Kyrton – Westerns – 8th May 2011 | |
| Bowmen of the Tors – York / Hereford / Bristols – 15th May 2011 | |
| Brixham Archers – York / Hereford / Bristols – 29th May 2011 | |
| Redruth – Double American – 26th June 2011 | |
| Wadebridge Open – Mixed Hereford / Bristols – 3rd July 2011 | |
| Exmouth Archers Open – RS York / Hereford / Bristols / Nationals – 10th July 2011 | |
| Newquay Bowmen – York / Hereford – 17th July 2011 | |
| Kenwith – York / Hereford – 24th July 2011 | |
| Exmouth Archers FITA Weekend – FITA 70m and Head to Head / Ladies / Gents FITA 20th and 21st August 2011 | |
| Kenwith Archers – Portsmouth and FITA – 6th November 2011 | |
| Newquay Bowmen – Worcestor – 13th November 2011 | |
| Archers of the West – Portsmouth – December 2011 | |
| Tournaments – 2010 | Results Sheet |
| --- | --- |
| Brixham Clipper – Portsmouth and Head to Head – 7th February 2010 | |
| Archers of the West – Portsmouth – 7th March 2010 | |
| St Austell – Combined FITA – 14th March 2010 | |
| Redruth – Double FITA 70m and Cadet 60m – 9th May 2010 | |
| Kyrton – Westerns – 9th May 2010 | |
| Bowmen of the Tors – York / Hereford / Bristols – 16th May 2010 | |
| Brixham Archers – York / Hereford / Bristols – 30th May 2010 | |
| Lizard Peninsula Bowmen Open – St George / Albion – 6th June 2010 | |
| Exmouth Archers Open – RS York / Hereford / Bristols / Nationals – 11th July 2010 | |
| Wadebridge Open – Mixed Hereford / Bristols – 4th July 2010 | |
| Exmouth Archers FITA Weekend – FITA 70m and Head to Head / Ladies / Gents FITA (Part of Archery GB National Series) – 21st/22nd August 2010 | |
| Kyrton – Eagle Open – 10th October 2010 | |
| Brixham Archers – Autumn FITA 18 and H2H – 24th October 2010 | |
| Kenwith Archers – Portsmouth and FITA – 7th November 2010 | |
| Newquay Bowmen – Worcestor – 14th November 2010 | |
| Archers of the West – Handicap Portsmouth – 5th December 2010 | |
| Tournaments – 2009 | Results Sheet |
| --- | --- |
| Kyrton Archers Winter Warmer – 11th January 2009 3 | |
| Brixham Archers Clipper – 1st February 2009 | |
| Archers of the West – Portsmouth – 8th March 2009 | |
| Redruth – Double FITA 70m and Cadet 60m – 26th April 2009 | |
| Bowmen of the Tors – Longbow Western and Novelty Shoot – 26th April 2009 | |
| Redruth – Double American – 10th May 2009 | |
| Kyrton Open – Westerns – 10th May 2009 | |
| Bowmen of the Tors – York / Hereford / Bristols – 17th May 2009 | |
| Brixham Archers – York / Hereford / Bristols – 24th May 2009 | |
| Exmouth Archers Open Shoot – York / Hereford – 31st May 2009 | |
| Lizard Peninsula Bowmen Open – St George / Albion – 7th June 2009 | |
| Wadebridge Open – York / Hereford / Bristols – 21st June 2009 | |
| Yelverton Open – Double FITA 70m – 5th July 2009 | |
| Redruth – Canadian 1200 – 19th July 2009 | |
| Exmouth Archers FITA Weekend – 70m Head to Head and FITA – 22nd / 23rd August 2009 | |
| Brixham Archers – Autumn FITA 18 and H2H 25th October 2009 | |
| Archers of the West – FITA 18 – 6th December 2009 | |
| Tournaments – 2008 | Results Sheet |
| --- | --- |
| Brixham Archers Clipper – 3rd February 2008 | |
| Redruth Archers – Longbow Western and Clout – 13th April 2008 | |
| Bowmen of the Tors – Agincourt Longbow Western – 20th April 2008 | |
| Redruth Archers – double 720 – 27th April 2008 | |
| Redruth Archers – Double American – 11th May 2008 | |
| Kyrton Archers – Westerns – 11th May 2008 | |
| Bowmen of the Tors – York/Hereford/Bristols & Nationals – 18th May 2008 | |
| Brixham Archers – York/Hereford/Bristols & Nationals – 25th May 2008 | |
| Newquay Bowmen – York / Hereford / Bristols and Nationals – 6th July 2008 | |
| Exmouth Archers Open – 13th July 2008 | |
| Redruth Archers – Canadian 1200 – 20th July 2008 | |
| Kenwith Archers – York / Hereford and Bristols – 27th July 2008 | |
| Exmouth Archers FITA Weekend – 16th and 17th August 2008 | |
| Brixham Archers – FITA 18 – 26th October 2008 | |
| Archers of the West – FITA 18 and Head to Head – 7th December 2008 | |
| Tournaments – 2007 | Results Sheet |
| --- | --- |
| Kyrton Indoor – 14th January 2007 | |
| Brixham Indoor – 4th February 2007 | |
| Kenwith Indoor – 18th February 2007 | |
| Archers of the West Indoor – 25th March 2007 | |
| Bowmen of the Tors – Longbow – 22nd April 2007 | |
| Bowmen of the Tors – York / Hereford – 20th May 2007 | |
| Kyrton Open – Westerns – 13th May 2007 | |
| Brixham Open – 27th May 2007 | |
| Lizard Peninsular Bowmen Open – 10th June 2007 | |
| Exmouth Archers Open – 15th July 2007 | |
| Exmouth Archers FITA Weekend – 18th and 19th August 2007 | |
| Kyrton October Indoor – 14th October 2007 | |
| Brixham Archers FITA 18 – 28th October 2007 | |
| Archers of the West FITA 18 and H2H – 2nd December 2007 | |
| Tournaments – 2006 | Results Sheet |
| --- | --- |
| Brixham Indoor – 6th February 2006 | |
| Archers of the West Indoor – 16th February 2006 | |
| Bowmen of the Tors Open – 21stth May 2006 | |
| Brixham Open – 28th May 2006 | |
| Exmouth Lunartic – 9th June 2006 | |
| Kenwith Open – 23rd July 2006 | |
| Exmouth Open – 6th August 2006 | |
| Exmouth FITA Weekend – 19th & 20th August 2006 | |
| Kenwith Indoor – 19th November 2006 | |
| Archers of the West Indoor H2H – 3rd December 2006 | |
| Tournaments – 2005 | Results Sheet |
| --- | --- |
| Exmouth Fun Indoor  - 16th January  2005 | |
| Brixham Indoor – 6th February 2005 | |
| Archers of the West Indoor – 20th February 2005 | |
| Bowmen of the Tors Open – 15th May 2005 | |
| Kingsbridge Westerns – 22nd May 2005 | |
| Brixham Open – 29th May 2005 | |
| Exmouth Lunartic – 10th June 2005 | |
| Exmouth Open – 7th August 2005 | |
| Exmouth FITA Weekend – 20th/21st August 2005 | |
| Kenwith Open 21st August 2005 | |
| Kenwith Indoor 6th November 2005 | |
| Tournaments – 2004 | Results Sheet |
| --- | --- |
| Archers of the West Valentines Shoot – 22nd February 2004 | |
| Brixham Open – 30th May 2004 | |
| Kenwith Open – 22nd August 2004 Adobe Acrobat Document | |
| Kingsbridge Indoor – 14th November 2004 | |
DCAS Tournament Result Sheets
| Tournaments – 2020 | Results Sheet |
| --- | --- |
| D.C.A.S. Indoor Championships – 23rd February 2020 | Ianseo |
| The Exmouth Archers Open Field Shoot - 3rd October and 4th October 2020 | Ianseo |
| DCAS Virtual Champs August 2020 | |
Tournaments – 2019
Results Sheet
D.C.A.S. Indoor Championships – 24th February 2019

Ianseo
D.C.A.S. Grand Day – 6th May 2019
D.C.A.S. & Exmouth Double WA1440 inc County Championships – 17th and 18th August 2019

Ianseo Sat
Ianseo Sun
D.C.A.S. Autumn Gold Shoot – 8th September 2019

Ianseo
D.C.A.S. and G.W.A.S. Field Champs – 5th and 6th October 2019

Ianseo
Tournaments – 2018
Results Sheet
D.C.A.S. Indoor Championships – 25th February 2018


Ianseo
D.C.A.S. Grand Day – 6th May 2018

D.C.A.S & Exmouth Archers Double WA1440 – 14th and 15th July 2018

Ianseo Sat
Ianseo Sun
D.C.A.S. & Exmouth Double WA1440 inc County Championships – 18th and 19th August 2018



Ianseo Sat
Ianseo Sun
D.C.A.S. Autumn Gold Shoot – 2nd September 2018


Ianseo
D.C.A.S. and G.W.A.S. Field Champs – 6th and 7th October 2018

Ianseo
Tournaments – 2017
Results Sheet
D.C.A.S. Indoor Championships – 26th February 2017


Ianseo
D.C.A.S. Grand Day – 30th April 2017

D.C.A.S & Exmouth Archers Double FITA – 8th and 9th July 2017


Ianseo Sat
Ianseo Sun
D.C.A.S. & Redruth Double FITA inc County Championships – 5th and 6th August 2017
Ianseo Sat
Ianseo Sun
D.C.A.S. Autumn Gold Shoot – 3rd September 2017

D.C.A.S. and G.W.A.S. Field Champs – 7th and 8th October 2017

Ianseo
Tournaments – 2016
Results Sheet
D.C.A.S. Indoor Championships – 28th February 2016
D.C.A.S. Clout Championships – 20th March 2016
D.C.A.S. Grand Day – 1st May 2016
D.C.A.S & Exmouth Archers Double FITA – 9th and 10th July 2016
D.C.A.S. & Redruth Double FITA – 6th and 7th August 2016
Exmouth Archers FITA Weekend including Couty Championships – 20th and 21st August 2016

Ianseo Sat
Ianseo Sun
D.C.A.S. Autumn Gold Shoot – 4th September 2016

| Tournaments – 2015 | Results Sheet |
| --- | --- |
| D.C.A.S. Indoor Championships – 232nd February 2015 | |
| D.C.A.S. Grand Day – 3rd May 2015 | |
| D.C.A.S & Exmouth Archers Double FITA – 30th and 31st May 2015 | |
| D.C.A.S. & Redruth Double FITA inc County Championships – 1st and 2nd August 2015 | |
| D.C.A.S. Autumn Gold Shoot – 6th September 2015 | |
| D.C.A.S. and G.W.A.S. Field Champs – 17th and 18th October 2015 | |
| Tournaments – 2014 | Results Sheet |
| --- | --- |
| D.C.A.S. Indoor Championships – 23rd February 2014 | |
| D.C.A.S. Grand Day – 4th May 2014 | |
| D.C.A.S & Exmouth Archers Double FITA – 31st May and 1st June 2014 | |
| D.C.A.S. & Redruth Double FITA inc County Championships – 2nd and 3rd August 2014 | |
| D.C.A.S. Autumn Gold Shoot – 7th September 2014 | |
| D.C.A.S. Clout Championships – 28th September 2014 | |
| D.C.A.S. and G.W.A.S. Field Champs – 18th and 19th October 2014 | |
| Tournaments – 2013 | Results Sheet |
| --- | --- |
| D.C.A.S. Indoor Championships – 24th February 2013 | |
| D.C.A.S. Grand Day – 5th May 2013 | |
| D.C.A.S & Exmouth Archers Double FITA – 8th and 9th June 2013 | |
| D.C.A.S. County Championships – 21st July 2013 | |
| D.C.A.S. & Redruth Double FITA – 3rd and 4th August 2013 | |
| D.C.A.S. Autumn Gold Shoot – 1st September 2013 | |
| D.C.A.S. Clout Championships – 29th September 2013 | |
| D.C.A.S. and G.W.A.S. Field Champs – 18th and 19th October 2013 | |
| Tournaments – 2012 | Results Sheet |
| --- | --- |
| D.C.A.S. Indoor Championships – 26th February 2012 | |
| D.C.A.S. Grand Day – 6th May 2012 | |
| D.C.A.S & Exmouth Archers Double FITA – 9th and 10th June 2012 | |
| D.C.A.S. County Championships – 21st July 2013 | |
| D.C.A.S. County Championships – 22nd July 2012 | |
| D.C.A.S. & Redruth Double FITA – 4th and 5th August 2012 | |
| D.C.A.S. Autumn Gold Shoot – 2nd September 2012 | |
| D.C.A.S. and G.W.A.S. Field Champs – 20th and 21st October 2012 | |
| Tournaments – 2011 | Results Sheet |
| --- | --- |
| D.C.A.S. Indoor Championships – 27th February 2011 | |
| D.C.A.S. Grand Day – 1st May 2011 | |
| D.C.A.S & Exmouth Archers Double FITA – 21st and 22nd May 2011 | |
| D.C.A.S. County Championships – 31st July 2011 | |
| D.C.A.S. & Redruth Double FITA – 6th and 7th August 2011 | |
| D.C.A.S. Autumn Gold Shoot 4th September 2011 | |
| D.C.A.S. and G.W.A.S. Field Champs – 15th and 16th October 2011 | |
| Tournaments – 2010 | Results Sheet |
| --- | --- |
| D.C.A.S. Indoor Championships – 28th February 2010 | |
| D.C.A.S. Grand Day | |
| D.C.A.S & Exmouth Archers Double FITA – 22nd and 23rd May 2010 | |
| D.C.A.S. & Redruth Double FITA | |
| D.C.A.S. County Championships | |
| D.C.A.S. Autumn Gold Shoot | |
| D.C.A.S. and G.W.A.S. Field Champs | |
| Tournaments – 2009 | Results Sheet |
| --- | --- |
| D.C.A.S. Indoor Championships – 22nd February 2009 | |
| D.C.A.S. Grand Day – Exeter – 3rd May 2009 | |
| D.C.A.S & Exmouth Archers Double FITA – 11th / 12th July 2009 | |
| D.C.A.S. & Redruth Double FITA – 1st / 2nd August 2009 | |
| D.C.A.S. County Championships – Brixham – 16th August 2009 | |
| D.C.A.S. Autumn Gold Shoot – Plymouth – 6th September 2009 | |
| D.C.A.S. and G.W.A.S. Field Champs – Exmouth – 4th October 2009 | |
| Tournaments – 2008 | Results Sheet |
| --- | --- |
| D.C.A.S. Indoor Championships – Plymouth – 24th February 2008 | |
| D.C.A.S. Grand Day – Exeter – 4th May 2008 | |
| D.C.A.S & Exmouth Archers Double FITA – 31st May / 1st June 2008 | |
| D.C.A.S. & Redruth Double FITA – 2nd & 3rd August 2008 | |
| D.C.A.S. County Championships – 31st August 2008 | |
| D.C.A.S. Autumn Gold Shoot – Plymouth – 7th September 2008 | |
| Tournaments – 2007 | Results Sheet |
| --- | --- |
| D.C.A.S. Indoor Championships – 25th February 2007 | |
| D.C.A.S. Grand Day – Exeter – 6th May 2007 | |
| D.C.A.S & Exmouth Archers Double FITA – 2nd & 3rd June 2007 | |
| D.C.A.S. & Redruth Double FITA – 4th & 5th August 2007 | |
| D.C.A.S. County Championships- Exeter – 12th August 2007 | |
| D.C.A.S. Autumn Gold Shoot – Plymouth – 2nd September 2007 | |
| Tournaments – 2006 | Results Sheet |
| --- | --- |
| D.C.A.S. Indoor Championships – 5th March 2006 | |
| D.C.A.S. Grand Day – 7th May 2006 | |
| D.C.A.S & Exmouth Archers Double FITA – 3rd & 4th June 2006 | |
| D.C.A.S. County Championships – 16th July 2006 | |
| D.C.A.S & Redruth Archers Double FITA – 12th & 13th August 2006 | |
| D.C.A.S Autumn Gold – 10th September 2006 | |
| Tournaments – 2005 | Results Sheet |
| --- | --- |
| D.C.A.S. Indoor Championships – 27th February 2005 | |
| D.C.A.S. Grand Day – 1st May 2005 | |
| D.C.A.S & Exmouth Archers Double FITA – 4th / 5th June 2005 | |
| D.C.A.S. County Championships – 17th July 2005 | |
| D.C.A.S. FITA Clout – 23rd July (Sat) 2005 | |
| Tournaments – 2004 | Results Sheet |
| --- | --- |
| D.C.A.S. Indoor Championships – 29th February 2004 | |
| D.C.A.S. Grand Day – 2nd May 2004 | |
| D.C.A.S & Exmouth Archers Double FITA – 5th / 6th June 2004 | |
| D.C.A.S. County Championships – 25th July 2004 | |
| D.C.A.S. FITA Clout – 15th August 2004 | |
| D.C.A.S. Autumn Gold Shoot – 12th September 2004 | |
| Tournaments – 2003 | Results Sheet |
| --- | --- |
| D.C.A.S. Indoor Championships – 23rd February 2003 | |
| D.C.A.S. Grand Day – May 2003 | |
| D.C.A.S & Exmouth Archers Double FITA – June 2003 | |
| D.C.A.S. County Championships – July 2003 | |
| D.C.A.S. Single FITA Star – August 2003 | |
| D.C.A.S. Autumn Gold Shoot – September 2003 | |
| Tournaments – 2002 | Results Sheet |
| --- | --- |
| D.C.A.S. Indoor Championships – 25th February 2002 | |
| D.C.A.S. Grand Day – 5th May 2002 | |
| D.C.A.S & Exmouth Archers Double FITA – 8th / 9th June 2002 | |
| D.C.A.S. FITA Clout – 14th July 2002 | |
| D.C.A.S. County Championships – 21st July 2002 | |
| D.C.A.S. Single FITA Star – 18th August 2002 | |
| D.C.A.S. Autumn Gold Shoot – 8th September 2002 | |
| Tournaments – 2001 | Results Sheet |
| --- | --- |
| D.C.A.S. Indoor Championships – 24th February 2001 | |
| D.C.A.S. Grand Day – 6th May 2001 | |
| D.C.A.S & Exmouth Archers Double FITA Star – 2nd / 3rd June 2001 | |
| D.C.A.S. FITA Clout – 15th July 2001 | |
| D.C.A.S. County Championships – 22nd July 2001 | |
| D.C.A.S. Single FITA Star – 19nd August 2001 | |
| D.C.A.S. End of Season Shoot – 9th September 2001 | |
The records are maintained by Scott Williams. Please send all claims to Scott Williams – 18 Millin Way, Dawlish Warren, Devon EX7 0EP, or use the form below:
A County Record Claim may be made by any member of Devon and Cornwall Archery Society.
You may claim a record at any open tournament run by any club within the two Counties or at any open tournament worldwide.
All Claims must be made within 4 weeks of the shoot.
Copies of these records will be made available for inspection at all County Shoots.
To make a claim you should complete a County Record Claim form (obtainable from the County Records Officer, Tournament Organiser or Club Secretary or download it here). This should be sent to the County Records Officer with a copy of the results sheet.
Incomplete claim forms or no result sheet accompanying a claim will not be accepted. It is up to the individual to make the claim.
Once a claim has been approved a certificate will be issued and awarded at the next County Shoot.
Rounds within Rounds may not be claimed.
DCAS does not currently recognize Junior age groups. The ages listed in the tables are the age a Junior may be to claim the record for that round.
If you also wish to wish a GWAS record, this should be done via Scott on this claim form. 
County Team Selection Criteria
Senior County Team Selection for 2021
There are two events that the county team competes in during the year, the National Intercounties and the GWAS Intercounties in September. The team will be selected independently for each of these events and these have separate selection criteria. All archers interested must submit their scores on the appropriate form to the team manager by the relevant cut off date.
The National Intercounties have been put back to 24 / 25 September 2022, and will not happen in 2021
Details on team selection for 2022 will be published here once available
GWAS Intercounties – 19th September 2021
In order to qualify for selection, you must shoot three 12 dozen rounds during the current season at a minimum distance appropriate to your gender (Ladies and Gentlemen's 1440 & York/Hereford). The Team will then be picked based upon the handicaps obtained for those rounds. The County Records Officer and Senior County Team Manager will be responsible for this process. In case of a tie (defined as less than 1 handicap point difference), this will be decided by dropping the handicap of the oldest rounds. Should a conflict occur, the County Vice Chairman will have the final decision.
It will be a condition of accepting to shoot for the County that you agree to wear the official County Colours throughout the day. This includes the current DCAS shooting top.  Lower garments are to be self-funded and must confirm to the current GWAS requirements.  Black preferred, but green or white will be accepted.
For All archers:
It will be the Archers responsibility to forward their selection scores on the official form to the Team Manager for inclusion. If shot outside of the county these must be substantiated by a results sheet. Please ensure you do this before the cut off date which will be August 31st 2021. Anything received after this date will be ignored.
To ensure that entries have not been lost in transit, it is the archer's responsibility to contact the team manager, if their submission has been not acknowledged by the morning of 2nd September.
If you intend to submit scores for this event please notify the team manager as soon as possible so that the team entry can be made in advance and the individual names submitted after the cut off date.
GWAS Intercounties Senior Squad Selection
Senior Squad 2021 – 2022
We may be running Senior Squad coaching sessions monthly during the indoor season. If you want to be considered for a place, please complete and return the Senior Squad selection form. Spaces are limited and will be offered as follows:
1. Archers who were selected for the county team for September 2019 GWAS Intercounties
2. Archers who were selected only for the county team for June 2019 National Intercounties
3. Archers who submitted scores in 2019 but were unsuccessful on making the team
4. Archers who apply for squad and are potential team members for 2022
Team Shirt replacement Policy
The DCAS Committee have agreed the following policy on shirt replacement.
Recurve Men
Rob Williams
Trevor Dance
David Nicholas
Andrew Hoyle
Alex Rowe
Nicholas Hicks
Compound Men
Andrew Scott
David Cousins
David Nash
Stephen Glover
Barebow Men
Lönja Selter
Geoff Crewdson
Longbow Men
Rob Twigg
Antony Aplin
Recurve women
Lucy Nicholas
Saira Chaudhry
Karen Williams
Surabhi Desai
Compound Women
Sharon Hill
Chloe Scott
Claire Hart
Barebow Women
Karen Grassie
Shelagh Cusack
Longbow Women
Sophie Twigg
Charlie Semmens
The team for the GWAS Intercounties 2021
Congratulations to all of the team who won the GWAS Intercounties 2021.
DCAS and AGB Awards
All Roses and Stars may be claimed in any order, and won by all styles of Archers. Roses and Stars can only be claimed when scores have been achieved at a record status Rose or FITA Star tournament held within the Devon and Cornwall area. Claims must be made on the correct form and accompanied with a payment of £2. Awards to DCAS Juniors will be free of charge. The award administrator is Scott Williams, and claims can be made at most County shoots.

Click on the images below to view the awards artwork (PDF)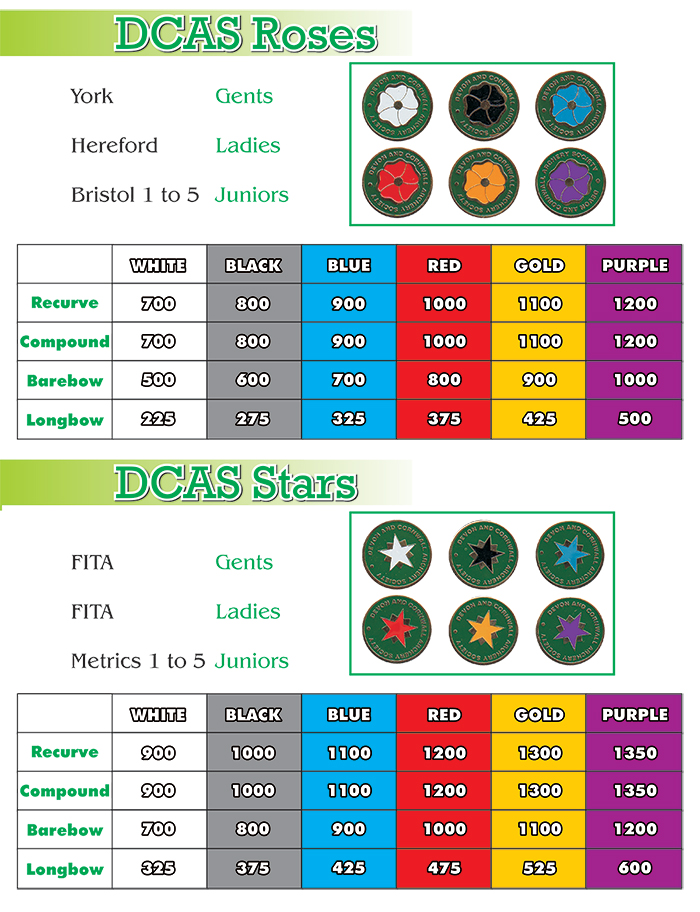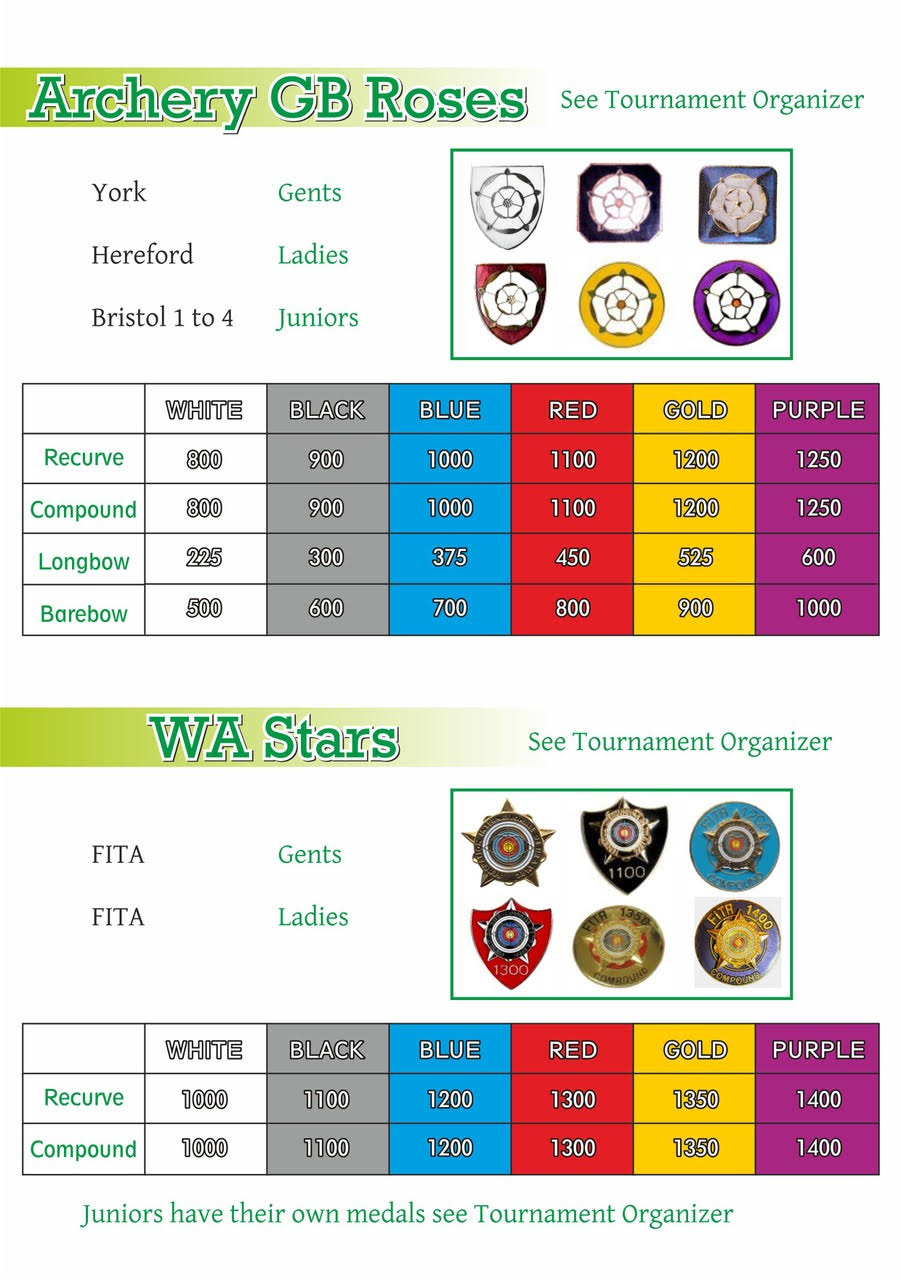 DCAS DOCUMENTS
Documents will be in Adobe Acrobat Reader Format. If you are looking for a definitive list of DCAS Club Secretaries, please contact the societies Secretary. Please click a button below to access the document.
Summaries from DCAS Committee
Important Notices